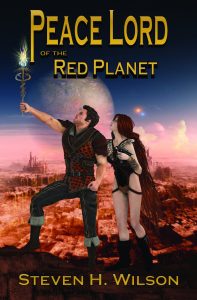 His Death was only the Beginning… Shepherd Autrey is a Quaker, a physician, and a man deeply disturbed by the madness around him as the War Between the States bears down on his America in 1863. Dared by a friend to take an active role, Shep volunteers to provide humanitarian aid to the victims of Sherman's scorched earth campaign in the Shenandoah Valley. There he runs foul of a Confederate recruiting drive and finds himself hanged by the neck from a tree. Awakening in a strange land which can't possibly be earth, Shep is plunged into battle and saves the life of an alien warrior prince. Hailed by bloodthirsty killers as the bravest man alive, Shep combats his conscience, his flagging faith, and an ever-growing number of people who want him dead.
The paperback and Kindle versions of Steven H. Wilson's SF/Fantasy novel Peace Lord of the Red Planet are now on sale for $3.18 on Amazon!
---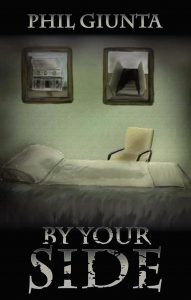 While haunted by visions of her brother's suicide, psychic-medium Miranda Lorensen is called to Lancaster, Pennsylvania to investigate a series of bizarre deaths–some of which are also suicides. Miranda and her team of paranormal investigators quickly find themselves confronted by a vengeful spirit awakened thirty-three years after a bloody family tragedy. Miranda realizes that only she can stop the entity before it claims its final victims, but will her obsession for saving lives redeem her for the brother she failed?
The paperback version of Phil Giunta's paranormal mystery novel, By Your Side, is now under $8! We honestly have no idea how long these sales will last as prices are adjusted by Amazon's capricious algorithms without notice.
Thanks again for supporting small press writers!