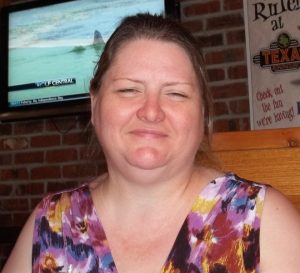 Susanna Reilly returns with an illuminating tale of first contact between a human starship captain and an enigmatic alien. A member of our core writing team since book one, Susanna reveals the origins behind her contribution to Meanwhile in the Middle of Eternity.
---
I originally wrote "In the Eyes of the Beholder" as a fan fiction story based in the Star Trek: Enterprise universe.  Around that time, sci-fi in general had taken a turn toward darker, more realistic stories and I missed the more light-hearted, positive view of alien/human interactions that original Star Trek exemplified.  So I decided to create a story about aliens who were not only happy to see Earthlings going forth into the universe, but also delighted to see what mischief they would bring – while causing a little mischief of their own.
Taking the story out of the Star Trek: Enterprise universe presented its own challenges.  Using an established universe allows a writer to take some short cuts in character development due to readers' existing knowledge.  I feel that I met those challenges and am pleased with the result.  I hope you find the story as enjoyable to read as I found it to write.
We hope you'll check out the perks we're offering in our Indiegogo campaign and consider a contribution to help us fund the publication of Meanwhile in the Middle of Eternity. Thank you for supporting small press writers!
---
SUSANNA REILLY has been enthusiastic about writing since she was named first runner-up in a story writing contest at the age of 11. For many years writing took a backseat to school, work, and motherhood, but the fire stayed alive. It was stoked in the late 1990's and early 2000's when she joined a science fiction fan club that published an annual fanzine. Although the fanzine sold less than 30 copies per year (mostly to friends and family of the authors), the joy of writing stories in her favorite sci-fi universes kept her going.
Susanna's first professional publication came in 2013 when her short story "To Protect and to Serve" was included in the Main Line Writers Group's first anthology Unclaimed Baggage: Voice of the Main Line Writers. She subsequently published two stories ("Form and Substance" and "Perchance to Dream") in the 2014 anthology Somewhere in the Middle of Eternity and one story ("Tree of Love") in the 2016 anthology Elsewhere in the Middle of Eternity.
---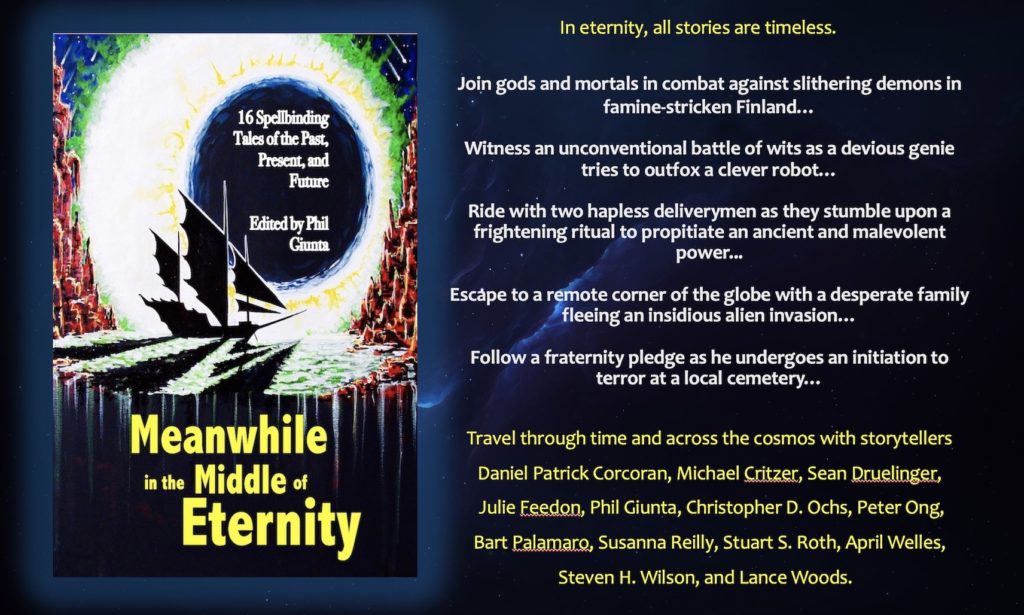 We look forward to launching Meanwhile in the Middle of Eternity in February 2021.  In the meantime, check out the first volumes in the series by clicking on a cover image below.