‌
The history of Maryland's SF convention scene is chronicled through interviews and anecdotes from many longtime organizers, guests, and attendees. The Baltimore region is home to a number of popular and enduring SF cons that include Farpoint, Balticon, Shore Leave, and others. The Fandom Fifty is slated for release in mid-2019. Cover art by Todd Brugmans.
---
In eternity, all stories are timeless.
Join gods and mortals in combat against slithering demons in famine-stricken Finland…
Witness an unconventional battle of wits as a devious genie tries to outfox a clever robot…
Ride with two hapless deliverymen as they stumble upon a frightening ritual to propitiate an ancient and malevolent power…
Escape to a remote corner of the globe with a desperate family fleeing an insidious alien invasion…
Follow a fraternity pledge as he undergoes an initiation to terror at a local cemetery…
The second project in the pipeline is the third volume in our speculative fiction anthology series—

Meanwhile in the Middle of Eternity

. This collection of sixteen spellbinding tales of SF, fantasy, and the paranormal follows in the tradition of its two predecessors.
Our august cadre of storytellers includes returning contributors Daniel Patrick Corcoran, Michael Critzer, Phil Giunta, Susanna Reilly, Stuart Roth, April Welles, Steven H. Wilson, and Lance Woods. Joining us for volume three are Richard Shawn, Julie Feedon, Christopher Ochs, Bart Palamaro, and Peter Ong.
‌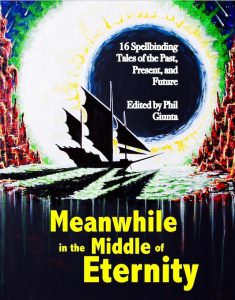 In addition to magnificent cover art by Michael Riehl, each story will be accompanied by one black and white illustration provided by a team of artists including Mike Riehl, Laura Inglis, and Tim Marron.