"A two-tale treat for fans of things that go bump in the night — starting with an appetizer about a vampire gnawing on an ethical dilemma, seasoned with macabre wit; and then serving a multi-course, multi-generational entree of ghostly mystery. So sit down, if you dare, to a supernatural double helping, but be forewarned: If you tend to read home alone after twilight, do so at your peril." —Howard Weinstein, New York Times bestselling author of Galloway's Gamble
---
Firebringer Take Two is a double horror novel formatted in the style of the vintage ACE double books of the 1950s through 1970s.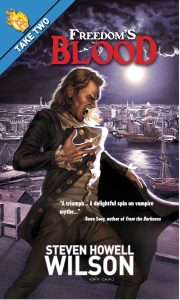 You're a vampire, but you have an unyielding belief in the sanctity of the individual's rights. How do you survive, if you can't take blood without permission? And what do you do when someone offers you his blood… with strings attached? This humorous tale explores the ethics of being a vampire—or even just a creature that's gotta eat—against the background of a developing America. Starting out in Colonial Maryland and carrying on through the 21st Century, FREEDOM'S BLOOD will perhaps amuse, perhaps enrage, and will certainly introduce you to a vampire like none you've ever encountered. Cover art by Caio Cacau.
---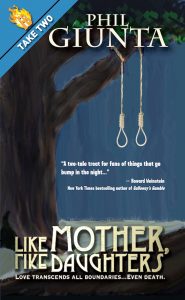 After her lover is found murdered during a paranormal investigation, Andrea Lorensen is determined to find the killer—with some help from her lover's ghost. Meanwhile, her mother Miranda travels to Salem, Massachusetts where she reunites with the gentle spirit of a young woman executed for witchcraft in 1692. This time, however, the encounter reveals an astonishing truth about Miranda's past life—a truth that could kill her. In LIKE MOTHER, LIKE DAUGHTERS, fans and new readers will see the return of psychic-medium and single mom Miranda Lorensen from Phil's previous novels (Testing the Prisoner and By Your Side)… and this time, she's bringing her daughter. Cover art by Laura Inglis.
---
"A triumph of a story putting a delightful spin on vampire myths. Witticism from the main character keeps the reader engaged to find out where he will go or what will happen next. I feel I want to pluck this character out of the story and journey with him as long as I'm not his next entrée. A sequel to this vampire is a must. Steven Wilson can add me as a fan of his work." —Dawn Sooy, author of From the Darkness
---
Firebringer Press would like to thank our Kickstarter contributors for their generosity in helping us bring this book to publication:
Lewis G. Aide, CabbitCommando, Daniel Patrick Corcoran, Michael Critzer, Tony Fucci, The Creative Fund, James Gallahan, Allyn Gibson, Jack Hillman, Madelyn Jackson, Heather Mikkelsen, Omar Padilla, Leeon Pezok, Susanna Reilly, Ann Stolinsky, Sharon Miller VanBlarcom, Lee Vierling, Judith Waidlich, Howie Weinstein, Cindy Woods, and Evon Zundel.
---