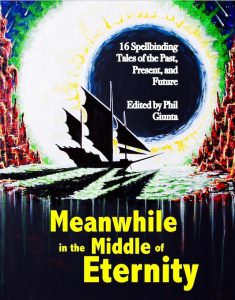 We're ecstatic to announce that all stories are locked in for the long-awaited third volume of the Middle of Eternity speculative fiction series—Meanwhile in the Middle of Eternity! All content editing has been completed and the manuscript will be compiled over the holidays. No official release date has been set, but stay tuned.
Contributing authors for book three include Daniel Patrick Corcoran, Michael Critzer, Julie Feedon, Phil Giunta, Christopher D. Ochs, Peter Ong, Bart Palamaro, Susanna Reilly, Stuart Roth, Richard Shawn, April Welles, Steven H. Wilson, and Lance Woods.
Cover art once again provided by Michael Riehl. Interior illustrations by Tim Marron, Laura Inglis, and Michael Riehl.
Meanwhile (pun intended), you can catch up with volumes one and two on Amazon by clicking on the cover images below. Each book presents a stellar selection of tales from the genres of science fiction, fantasy, and the paranormal written by established and burgeoning writers and edited by Phil Giunta.