We welcome Bart Palamaro to the Middle of Eternity with his fantastic science fiction tale, "How Pauley Michaels Saved Humanity."
Bart and Phil Giunta are fellow members of the Greater Lehigh Valley Writers Group where Bart serves as our webmaster and general tech guru as well as the facilitator of our Writers' Cafe live critique sessions.
Below, Bart reveals his inspiration behind his globetrotting adventure in Meanwhile in the Middle of Eternity.
---
This story is based on an actual incident that happened about seven years ago. We had a couple of friends over for dinner and I was taking some bowls down from the cupboard for soup, when I noticed that one of them was a slightly different style from the rest. They were pretty much as described in the story, homey, casual, comfortable. I put the odd bowl back and picked out another.  A couple of years later I was rummaging through the set again when I noticed there were now two of the odd bowls. I mentioned it to my wife and she just shrugged. I looked at the set and the outline of the story as published pretty much sprang into my head fully formed.
The odd thing is, since then we have neither microwaved nor used any of the odd bowls.
We hope you'll check out the perks we're offering in our Indiegogo campaign and consider a contribution to help us fund the publication of Meanwhile in the Middle of Eternity. Thank you for supporting small press writers!
---
Bart Palamaro is author of several published short stories and one published novel, The Other Side of Time, and The Fate of U-1055, its free prequel. All are pretty much in the SF genre. Almost everything Bart read growing up was SF or fantasy. Even Horatio Hornblower is a form of SF to a 20th Century kid.
Recently, he's taking a side trip into the paranormal, with a shapeshifter subculture living and prospering while indistinguishable from anyone else in our own world. In the Teeth of the Problem and In the Eye of the Beholder are due for publication in 2020. Who knows, he may commit fantasy one of these days.
Bart is also TechGuru for the Greater Lehigh Valley Writers Group, riding herd on the web site and various other techie stuff we do. For fun and profit, he edits and formats books for self-publishers, both print and ebook. He also does book covers.
---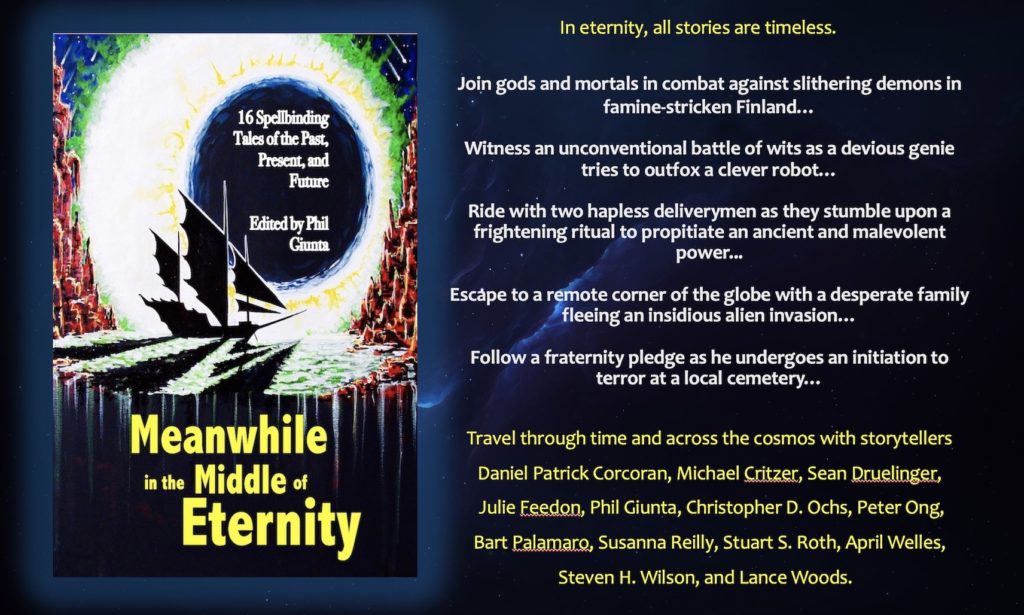 We look forward to launching Meanwhile in the Middle of Eternity in February 2021.  In the meantime, check out the first volumes in the series by clicking on a cover image below.