At Philcon 81 last weekend, Steve Wilson and Phil Giunta celebrated the release of Firebringer Take Two, the double horror novel comprised of Steve's vampire tale, Freedom's Blood, and Phil's paranormal mystery, Like Mother, Like Daughters.
Click here to read Phil's after action report from Philcon 81, including pictures from our book launch.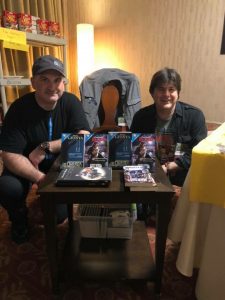 Also, if you donated to our Kickstarter, please be aware that all paperback rewards have been shipped! So check your mailbox over the next week or so. For those backers expecting eBook rewards, we will soon be in touch via email with instructions for claiming your reward.