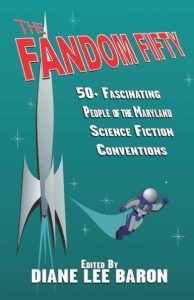 The Fandom Fifty by Diane Lee Baron is a one-of-a-kind exploration into the lives of people who make science fiction conventions a magical place to be. Fans from all walks of life come together to create a dynamic time and place where people can share their passions and knowledge of all things science fiction.
The Fandom Fifty includes interviews with convention committee members, artists, authors, costumers, panelists, and entertainers who are frequently found at the Farpoint, Shore Leave, and Balticon conventions.
To round out this dedicated group, the book also includes Super Fans, attendees of the cons who bring their own unique flavor into the mix. There are even interviews with young adults who were raised in fandom.
The participants in The Fandom Fifty share delightful recollections of their special moments at conventions and reveal their commitment to and love for fandom. So, sit back, put your feet up, and meet the fascinating people of The Fandom Fifty.
Cover art by Todd Brugmans.