Ghosts, Vampires, and American History…
We have no idea how long this sale will last, but the paperback version of our paranormal double novel—FREEDOM'S BLOOD by Steven H. Wilson and LIKE MOTHER, LIKE DAUGHTERS by Phil Giunta—is on sale at Amazon for $5.93 (normally priced at $10.99)! We happened to notice that Amazon adjusted the price, as they are wont to do from time to time.
The paperback is formatted like the classic ACE double novels of the 1950s-1970s where you read one story then flip the book over to read the other.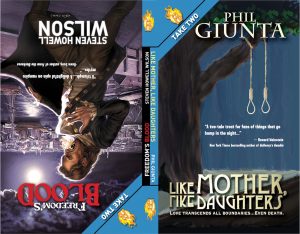 Of course, the Kindle edition is also available for $2.99 (no flipping required).
Thank you for supporting small press authors!